A day at work
How is the actual flow for manufacturing work? Here is an example of the day at R&D Department.

Start with short exercise and daily meeting.
Inform reports to all members and confirm their plan of the day.
Start from the durability test. (Durability test can be take 2 months long so the maintenance is very important)
Prepare for today's evaluation: Vibration and destructive test
Prepare sample parts.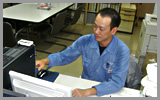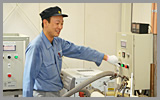 Continue
Take a picture of before the test.
Replace test jig and place test parts.
Collect all the data needed before test start.
Start test (If the test runs well, does not have to stay)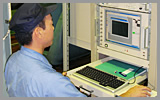 Cafeteria is on-site with corporate discount that help especially employees.
We have variety of food menus, lunch set, curry and etc.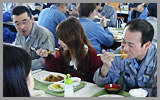 Continue work from the morning.
Meanwhile, organize the pictures and the data before test start.

When test has done, take the test sample and evaluate.
(leak test, color check, etc.) Take pictures of the sample parts.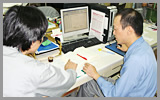 Summarize today's test report and submit to the supervisor.
Finish the durability test that started in the morning. (Check if there are any difference from the morning.)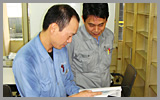 Usually work finish on time. When I have time after work, I go to fishing. City of Kure has many options to choose from river, lake and ocean fishing. Sometimes on a weekend play tennis with staff from Matsuju. Although I don't have much experience, good chance to practice and tennis club members are great.