A voice from a staff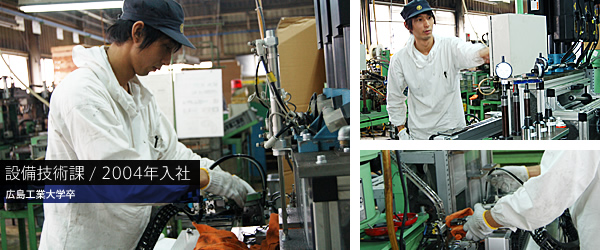 It all started from a counselor at the university, "Why not apply this position." "Matsumoto Heavy Industry (Matsuju) produces engine bolts for automobiles." When I visited Matsuju, fund out that Matsuju has high share of engine bolts, and I felt the stability of this company with key technology and expectation. Other than mass production, Matsuju challenges variety of field to develop. That's how I decided to join this company.


Every year, junior/entree level employees have chance to go to overseas for training. My 5th year I had a chance to visit Germany to see the plant of Mercedes Benz and Motor Show in France. I was nervous at the beginning, since it was my first time to travel a foreign country.
But soon after it turned into the best excitement. I felt very comfortable with bright and friendly people in Europe. Even after few years of joining the company, Matsuju has an opportunity and this is one of the strength of Matsuju.


There is no absolute answer in machinery equipment design. Fully automatic, as fast as possible, no defects, cost reduction, compact, durable and be compatible. Always keep in mind these conditions. I have made 2 machines at in-house production. It took me 5 years to get close to my supervisors and senior level staff. My goal is become a No.1 senior principal engineer, machinery design equipment and get a patent licensing.