Engineering Development
■Engineering overview
<Bolt, Nut, Other Parts Design>
High-strength tightening bolts based on VD 12230 standard.
In-house design procedure.
■Test equipment
<Engineering verification>
Ensure design evaluation with various test equipment.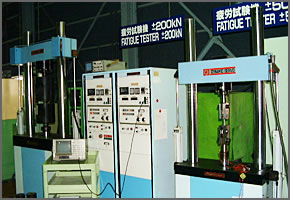 Stress Tester 50kN 200kN
Bolt and products under development.
Vibration Tester
Resonance point and durability.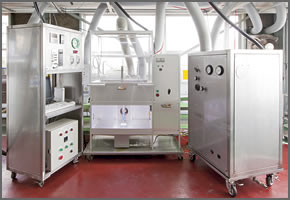 Oil-Jet Flow Tester
Flow characteristics, valve pressure and target hitting rate.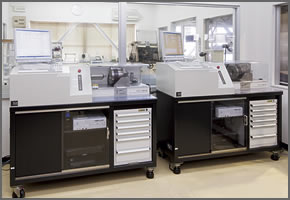 Bolt Tester
Tightening characteristics, tightening force for axis, torque, coefficient of friction.
■Engineering for process
<Cold Forging>
Challenges higher speed and more accurate production. Integrate die design experience with bolts and nuts production.
Archive smaller and thinner thickness parts using forging and hardening process.
<Plastic Region>
Light weight applying various plastic-forming processes and experience.
Rolling, extrusion, tube-bending, spool, deep drawing, hydraulic bulge, and hydraulic opposed-type stamping.
Applicable to plates, shafts or pipes.
<Surface Treatment>
High heat resistance and anti-friction on the surface of steel applying functionally graded materials.
Control friction coefficient of the steel.
■Cold Forging Process